Modismo 4
V.A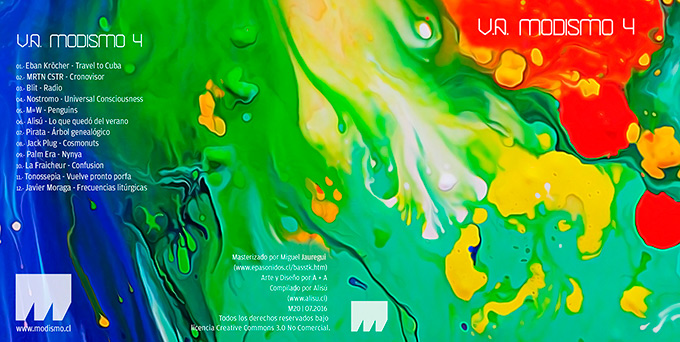 Review
V.A. Modismo 4
Modismo brings a new compilation album with unknown music that celebrates diversity and shows a solid union, coherence and artistic commitment. A light from the world of creation to everyone that wants to see it and embrace it. With new talents, a clear focus on innovation and technology, the forth compilation album of Modismo gathers the most representative producers from this record label. With a selective convocatory of artists, its a musical celebration of its own existence that wants to keep up with contemporary electro in a work full of details.
By Javier Moraga, July 2016
V.A. Modismo 4
Modismo nos ofrece su nuevo recopilatorio, con música inédita que aplaude la diversidad y da una sólida muestra de unión, coherencia y compromiso artístico que funciona como una señal desde el mundo de la creación a todos quienes quieran escucharla y hacerla propia. Con un claro acento en la innovación y la tecnología V.A Modismo 4 reúne a los productores más representativos de esta casa discográfica con nuevos talentos que se suman para este cuarto compilado. Una celebración musical de su propia existencia que a través de su selecta convocatoria busca tomar el pulso de la electrónica actual en una obra conjunta llena de matices.
Javier Moraga, Julio 2016
Tracklist:
01.- Eban Kröcher - Travel to Cuba
02.- MRTN CSTR - Cronovisor
03.- Blit - Radio
04.- Nostromo - Universal Consciousness
05.- M=W - Penguins
06.- Alisú - Lo que quedó del verano
07.- Pirata - Árbol genealógico
08.- Jack Plug - Cosmonuts
09.- Palm Era - Nynya
10.- La Fraicheur - Confusion
11.- Tonossepia - Vuelve pronto porfa
12.- Javier Moraga - Frecuencias litúrgicas

[M020 | 07/2016] www.modismo.cl
Mastered by Miguel Jauregui
www.epasonidos.cl/basstk.htm
Cover artwork by A + A
Compiled by Alisú
www.alisu.cl
Review by Javier Moraga
Eban Kröcher soundcloud.com/eban-kr-cher
MRTN CSTR soundcloud.com/cstr
Blit soundcloud.com/blit
Nostromo soundcloud.com/rolancho
M=W www.epasonidos.cl/basstk.htm
Pirata soundcloud.com/antonio-diaz-ch
Jack Plug soundcloud.com/jack_plug
Palm Era soundcloud.com/palm-era
La Fraicheur soundcloud.com/la-fraicheur
Tonossepia soundcloud.com/tonossepia
Javier Moraga soundcloud.com/javiermoraga