Nave Afrodita
Alisú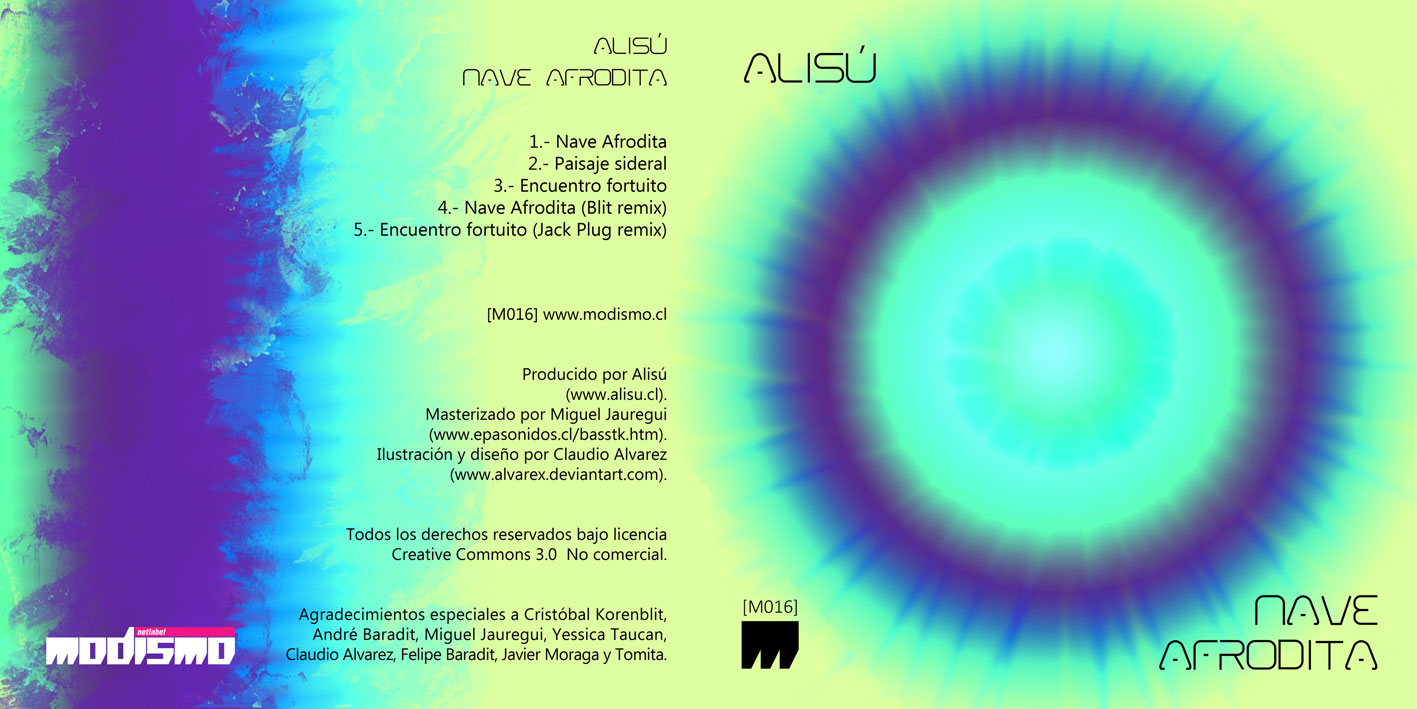 Review Alisú - Nave Afrodita
Taking control of Modismo, Alisú offers us a solid delivery with her more danceable compositions so far. A work that aeroglides over the watery sound depths that Alisú usually walks through. Oriental wisdom and feline reflexes reverberate under these new compositions, effectively accompanied by succulent exercises of reconstruction, molding a jewel of technologic craftwork, served as an invitation to fly first class.

Javier Moraga Salazar
Reseña Alisú - Nave Afrodita
Tomando las riendas de Modismo, Alisú nos ofrece una solida entrega con sus
composiciones más bailables hasta la fecha. Una obra que se aero-desliza
sobre las acuosas profundidades sonoras que Alisú acostumbra transitar.
Sabiduría oriental y reflejos felinos reverberan bajo estas nuevas piezas,
efectivamente acompañadas por suculentos ejercicios de reconstrucción,
moldeando una joya de la artesanía tecnológica, servida como una invitación
a volar en primera clase.
Javier Moraga Salazar
Tracklist:

01 - Nave Afrodita - Alisú
02 - Paisaje Sideral - Alisú
03 - Encuentro fortuito- Alisú
04 - Nave Afrodita - Blit remix
05 - Encuentro fortuito - Jack Plug remix

14/06/15
[M016] www.modismo.cl
Music by Alisú
(www.alisu.cl)
Mastered by Miguel Jauregui
(www.epasonidos.cl/basstk)
Cover artwork and design by Claudio Alvarez
(alvarex.deviantart.com)
Review by Javier Moraga
Thanks to André Baradit, Cristóbal Korenblit, Miguel Jauregui,
Yessica Taukan, Claudio Alvarez, Felipe Baradit, Javier Moraga, Carolina López y Tomita.