Gimo
Palm Era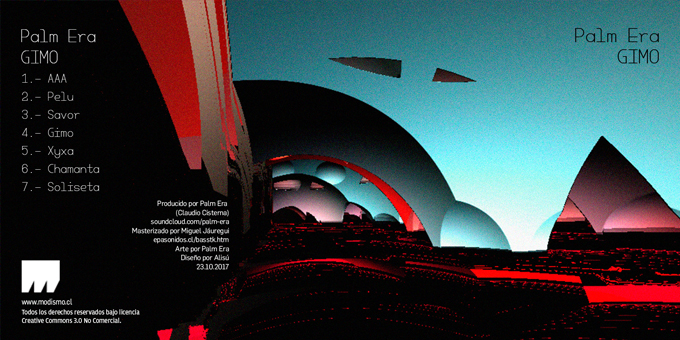 Review
Palm Era - Gimo
Palm_Era (Claudio Cisterna) is a chilean producer from Santiago. A long-standing electronic music producer, he had been publishing under the netlabel Impar and the record label U-Cover from Belgium under the alias Flipper, a project that is closer to IDM. Later under the alias 'Chiodata', he immerses himself more into the experimental side of music and releases some of his works under the Irish record label Fort Evil Fruits and Cocodriller. He has also developed other projects such as 'Jon Claudio', a fusion between electronic music and Krautrock. Palm_Era released his album called 'Coincidental' under the record label Illuminated Paths from Florida, USA in 2015. He has also collaborated in compilations that have been released by the netlabel Modismo and netlabel Epasonidos. These days, he is presenting 'Gimo', his first publication under Modismo which travels between diverse rhythms built with complex and yet innovative structures. 'Gimo' essentially takes us into a profound and flavorful trip where basslines and synths that are analogically worked combine. In this work, Palm_Era reveals his good taste and skills. The way to approach percussion in this record excels due to its production duty and Latino sense. Samples lead to a trance that is hard to get rid of and melodies gleams at the right time, as well as the details in experimentation. All this results in a very refreshing and futuristic album that will stand out in time without a doubt.

André Baradit, electronic musician, Valparaíso 2017.

Reseña
Palm_Era - Gimo
Palm_Era (Claudio Cisterna) productor chileno residente en la ciudad de Santiago. De larga data en la producción de música electrónica, ya venía publicando en el netlabel Impar y en el sello U-Cover de Bélgica con su alias Flipper, de corte más IDM. Bajo el alias de Chiodata donde indaga más en lo experimental publica trabajos en el sello irlandés Fort Evil Fruits y Cocodriller, también conocemos otros proyectos como Jon Claudio que es una fusión entre la electrónica y el Krautrock. Palm_Era publicó por el sello Illuminated Paths de Florida, Usa. su álbum "Coincidental" el año 2015. Ha colaborado en compilados de los netlabels Modismo y Epasonidos.En esta oportunidad nos presenta "Gimo" su primera publicación en Modismo, Palm_Era transita por diversas rítmicas construidas en estructuras complejas pero a su vez muy originales, en esencia nos lleva a un viaje profundo y sabroso, donde se conjugan líneas de bajos y sintetizadores trabajadas de manera análoga. Despliega claramente su buen gusto y oficio. La forma de abordar la percusión destacan por su elaboración y sentido latino, los samples llevan a un trance del que cuesta desprenderse, las melodías relucen en los momentos justos así también los detalles de la experimentación, todo esto hace de "Gimo" un disco muy fresco y futurista que sin duda destacará en el tiempo.
André Baradit, músico electrónico, Valparaíso 2017.

Tracklist:
01.- AAA
02.- Pelu
03.- Xyxa
04.- Chamanta
05.- Gimo
06.- Savor
07.- Soliseta
M025
[www.modismo.cl]
Producido por Palm Era
(Claudio Cisterna)
soundcloud.com/palm-era
Mastered by Miguel Jauregui
www.epasonidos.cl/basstk.htm
Arte por Claudio Cisterna
Diseño por Alisú
www.alisu.cl
Traducción por Allyson Penelas
www.alburaprod.com
24.10.2017